News and curiosities about adhesives Gnutti Bortolo & Loxeal 2022
News and curiosities about adhesives
Adhesives, simply called glues, used almost everywhere, in recent years have continuously improved their performance: they are applicable on various materials, in different environments, they have improved the speed with which they act and the results obtained, and finally, the methods of application have become simpler and more practical.
They are divided into:
Thread sealers – thread lockers – anaerobic sealers and lockers
Silicone sealants and MS polymeric
instant adhesives or cyanoacrylates
two-component acrylic, epoxy, polyurethane adhesives
one-component epoxy adhesives
UV adhesives
Sometimes to get the result we want we need a specialist who can produce the right adhesive for us: customized adhesive according to your needs. For this reason we are close to the customer's requests for innovation with a constant guarantee of technical support.
HERE ARE SOME NEWS LOXEAL

PO BONDERS: UNIVERSA ADHESIVE LINE for bonding DIFFICULT PLASTICS: PP – PE – PTFE – PMMA – PTFE – EVA - ACETAL(POM) but also COMPOSITES - METALS - GLASS – LEATHER - WOOD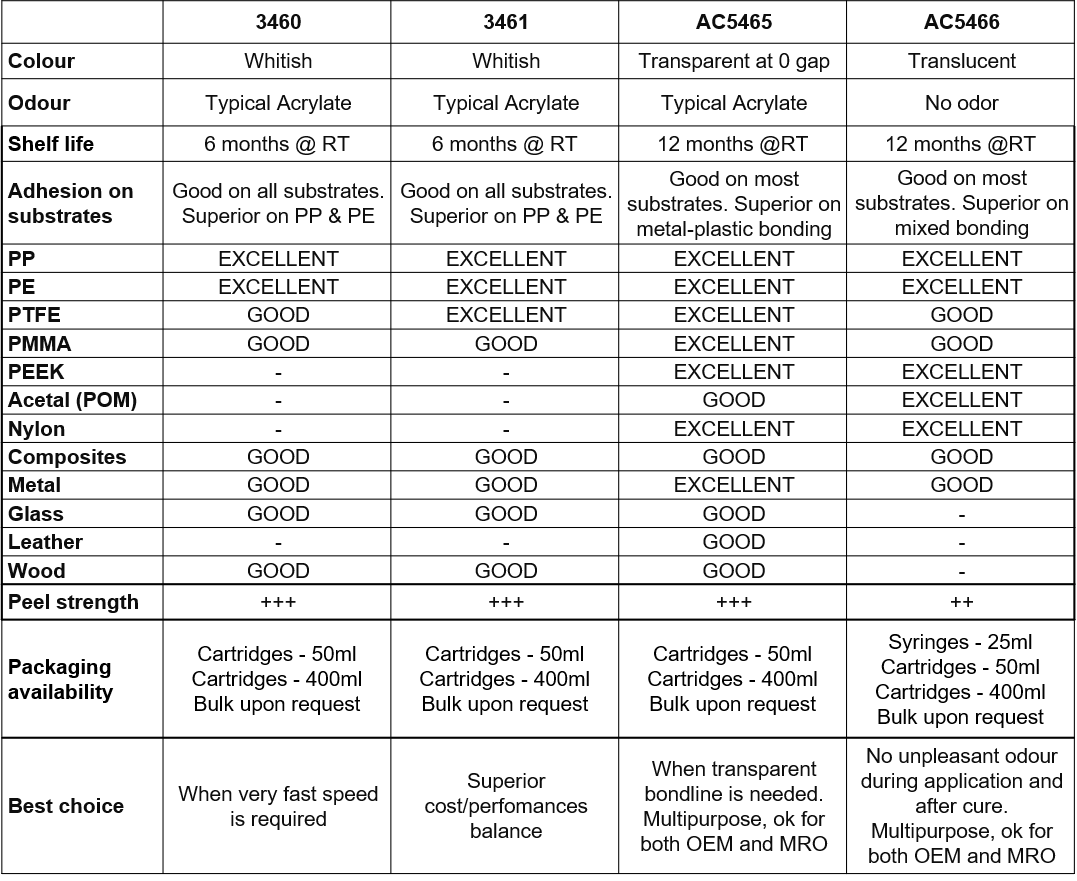 EXAMPLES: LAMPS, HOUSEHOLD APPLIANCES, FURNITURE, SENSOR COMPONENTS, AUTOMOTIVE COMPONENTS, SPORTS EQUIPMENT, BONDING PE / PTFE GUIDES ON STEEL, SEALING PE / PP JOINTS (Water, ad Blue, etc.), ACETALIC GLASSES, ETC.
COD.3460: the fastest
COD.3461: the standarsd
COD.AC5465: transparent
COD.AC5466: odourless